Carbery Sailing.
From March 2013 Carbery Sailing will be offering the following courses.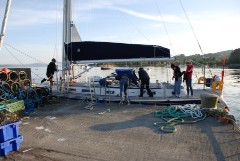 Courses
RYA Start Yachting Course
RYA Competent crew course
RYA Day Skipper
RYA Day Skipper Fastrack
RYA Start Yachting.
This is a short practical course for the complete beginner and those that would like to experience life at sea. You will join the vessel on the morning of day 1 and after safety briefings and familiarisation of the vessel we will set sail around the beautiful West Cork coast. Whilst sailing you will learn the Yacht, Ropework, Meteorology,Rules of the road, Man overboard Recovery, Clothing & equipment, together with emergency procedures & equipment.
The first days sailing will be approximately 30 miles when we will tie up or anchor at a suitable port. Dinner will be supplied on board and there should be adequate time to explore the local area.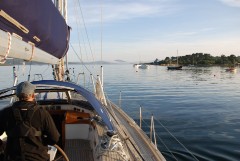 After Breakdfast on Day 2 we will set sail back to Ahakista during which time you will have the chance to put the knowledge learnt on day 1 into action working the sails, steering, navigating, conducting tacks & gybes during the passage, arriving back at Ahakista for early evening.
"It's not all work there will be times when you can sit back relax and just enjoy the views!"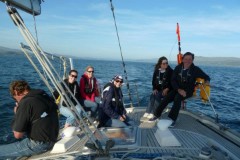 On completion of the 2 Day course you will receive a
RYA START YACHTING CERTIFICATE.
The cost of this course will be 280 Euro per person.
(this price includes all food & accommodationon board)
Additional nights ashore can be arranged at 40 euro per person B&B.
Booking Forms.
1. Booking Form
2. Terms and Conditions Acceptance Form
3. Medical Form
4. Code of Conduct Acceptance Form
5. Parental Consent Form (For students under the age of 18 at the start of the course)

It will also be useful to read our Joining Instructions as this details how to get to Ahakista, what life is like aboard a yacht, safety, insurance, kit to bring and accommodation available in Ahakista.