Carbery Sailing
RYA Day Skipper (Practical)
The RYA Day Skipper Practical is a 5 day course aboard our yacht Merlin . It is designed to teach students to assume full responsibility for the yacht and its crew. This is the ideal course for anyone about to buy their own yacht or undertake a self skippered holiday in Greece.
Students should ideally have attained Competent Crew level ability or have the necessary experience. During the course you will skipper the yacht on short passages in West Cork and there will be much emphasis on boat handling and navigation.
Students stay aboard Merlin during the practical course. You will visit different harbours and anchorages to practice pilotage techniques.
The course aims to provide you with the skill and confidence required to undertake a short passage in tidal waters as the skipper and be able to berth the boat safely.
Approximately 100 miles will be covered during the course bewteen Union Hall and the Kenmare River in West Cork, including at least 4 night hours sailing to experience night pilotage and identify navigation lights.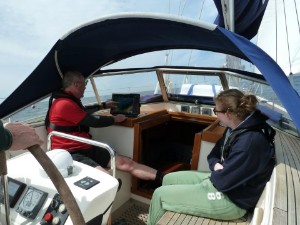 The Cost of the day Skipper practical will be 550 Euro per person (includes 4 nights on board accommodation & food)
Booking Details
1. Booking Form
2. Terms and Conditions Acceptance Form
3. Medical Form
4. Code of Conduct Acceptance Form
5. Parental Consent Form (For students under the age of 18 at the start of the course)

It will also be useful to read our Joining Instructions as this details how to get to Ahakista, what life is like aboard a yacht, safety, insurance, kit to bring and accommodation available in Ahakista.